'Mixing quality with experience'
Founded in 1898 as a windmill repair shop, Van den Berg evolved to a modern OEM and engineering company for the dry process industry.
We are your partner for dosing, weighing and mixing dry products. Our motto: 'Mixing quality with experience'. Van den Berg develops and supplies high quality systems, from individual components to complete turn-key installations.
Van den Berg is part of the van Mourik Group since September 2009.
Products

Horizontal Double Shaft Counter Flow Mixer
Fast and reliable mixing enabling a high level of homogeneity.
The BMW mixer initially achieved an international reputation in the animal feed industry. Subsequently, over a period of time, the company developed into virtually all areas of dry processing industry, for example: foodstuffs and food ingredients, chemicals and plastics, petrochemical, rendering and building chemicals.
Features
Allows for Double Ribbon, Low Shear Mixing
Low wear with abrasive materials

Minimum maintenance required

Low energy consumption
Contains a highly advanced trough design
Short mixing times

High mixing ratio (1:100,000)

Low variance coefficient (<5%)

Provides unlimited filling options. The entire surface of the mixer can be used to accommodate one or more filling points, from hand addition to pneumatic filling.

Is ideal for load cell mounting based on the stable character of the double shaft counter current principle.

Provides optimum flexibility due to the use of one or more 'fall-away valves' or a 'bomb door' configuration for fast discharge with minimal residue.

Provides easy cleaning access thanks to hinged doors or a Cleaning In Process (CIP) version.

Reduces power consumption because of its mixing geometry.

Requires low maintenance due to the simplicity of its design (based on 55+ years of experience) and the use of low-maintenance parts.

Can be supplied in carbon steel, coated, stainless steel or sanitary versions to suit the application.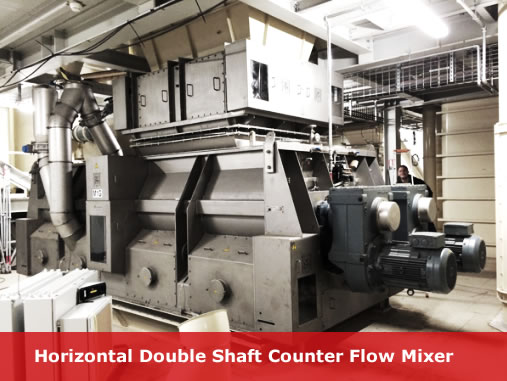 Industries / Processes
Food & Feed
Compound Feed

Premix / Mineral

Specialty Feeds (Pet Food, Fish Food)

Milk Replacer

Food Ingredient
 Industrial Manufacturing
Gypsum

Plaster

Ceramics

Plastics

Chemicals
How the comapny started back in 1898
Our history


Van den Berg has a rich history. The company was founded in 1898 as 'Van den Berg Molenbouw', it soon became clear that Van den Berg was much more than just a 'mill builder' and VdB became a fully-fledged machine factory with a wide range of activities within the animal feed sector, it started in the Netherlands but it soon spread abroad. Due to a lack of space as a result of fast growth, the company had no other option in 1916, than moving from Rotterdam to a larger address with more options in Waddinxveen. The company settled down in Waddinxveen until 2009, in 2009 the van Mourik Group bought VdB and moved the business from Waddinxveen to Ede. Initially Wim van Mourik (founder) offered the lowest bid of all the companies who were interested in VdB, but because the VMG was the only organization willing to offer a large part of the old employee base a new job, so this bid turned out to be the best bid.
Contact us


Thank you for visiting our website, would you be interested to contact us?
Send us a message and we will contact you as soon as possible!